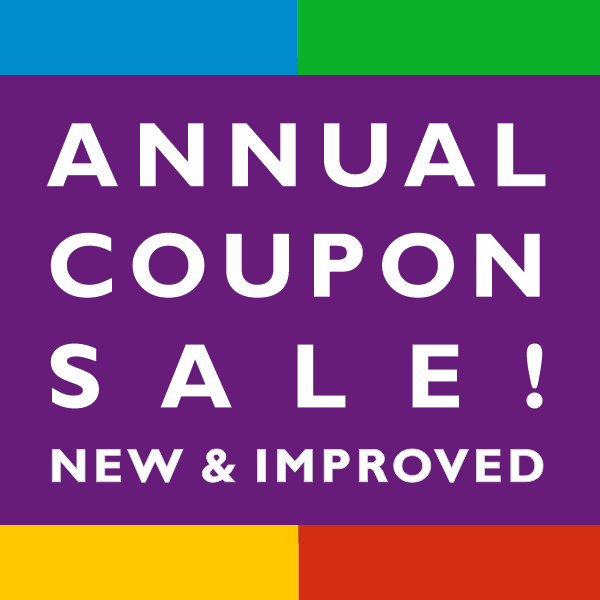 Our

Mailing List Members Receive These Two Great Coupons:

20% OFF
One Entire Purchase!*
Now thru 12/24

30% OFF
One Single Item!*
Now thru 12/24

Not on our mailing list?

Ask to join the mailing list when you come in to shop and our associate will give you a set of coupons!

*Coupons eligible on in-stock, regular price items. Min regular price purchase required – $20 for 20% Off coupon, $10 for 30% Off coupon.
Holiday Hours:
Mon – Sat 10 – 6 | Sun 1 – 5 | Black Friday 9 – 6
Christmas & New Year's Eve 10-3
Closed Thanksgiving, Christmas & New Year's Day
Give Gifts that Excite & Educate!
STEAM is
Fun, Exciting & Educational
Science Technology Engineering Arts Math items make great gifts for youngsters (age 2+) and the entire family!
Come check out our expanded STEAM Selection
From these great companies…
Including two
from Central PA:

Katapult Maker Space
&
EyeConnect Crafts
(See feature below)
Creator
E-Blox
Educational Insights
Geomag
Gravitrax
Learning Resources
Play Steam
Plus Plus
Rokr
Science Wiz
Smart Lab
Smart Max
Snap Circuits
Studiostone Creative
Teach Tech
Timber Kits
A Few Examples:
Solar Bot.14 by Elenco
This solar powered robotic kit contains unique components & parts to construct robots that operate on land and water. Build 14 different solar powered robots from functional to comical designs.
---
Totem Poppets
by EyeConnect Crafts
We're excited to present Totem Poppets from local company EyeConnect Crafts! Many other models in addition to the owl shown here.
The Totem Puppets are MOVABLE animals much like paper puppets. You can use watercolor paint, acrylic paints, pastels, crayons, just about anything you can think of to color your one-of-kind Totem Poppets. These unique laser cut craft projects, add creativity to your next craft project quickly and easily. Use them in a scrapbook layout, a DIY invitation or greeting card, an art journal, or in a kids craft project.
Each Totem Poppet has an educational aspect with a short write-up detailing the animals' meaning in either Native American culture, Asian culture or mythology. All of our designs are made from 100% recycled materials in the USA.
Holiday Hours:
Mon – Sat 10 – 6 | Sun 1 – 5 | Black Friday 9 – 6
Closed Thanksgiving, Christmas & New Year's Day
(thru 12/31/2020)
Ongoing Specials:

20-50% OFF Selected Assortments Including:
Teaching & Home Learning:
Resource Books – Many Subjects and Grade Levels…
From Houghton Mifflin Harcourt, Steck Vaughn, Carson Dellosa, and More
Bulletin Board Sets & Trimmers
Classroom Decoratives (Banners and Accents)
Classroom Storage & Games
Family Fun:
Games
"Retired" Playmobil
Animal Replicas
Plush Animal Toys
Outdoor Toys & Activities
---
---
Teacher Gold Card – Year round savings!
We appreciate that teachers spend their personal funds on materials used in their classroom. Our Teacher Gold Card helps… with each regular price purchase, teachers earn punches toward $10 off a purchase when fully punched. We then start another card. If you are a teacher, but do not yet have a Gold Card yet, just ask one of our staff.