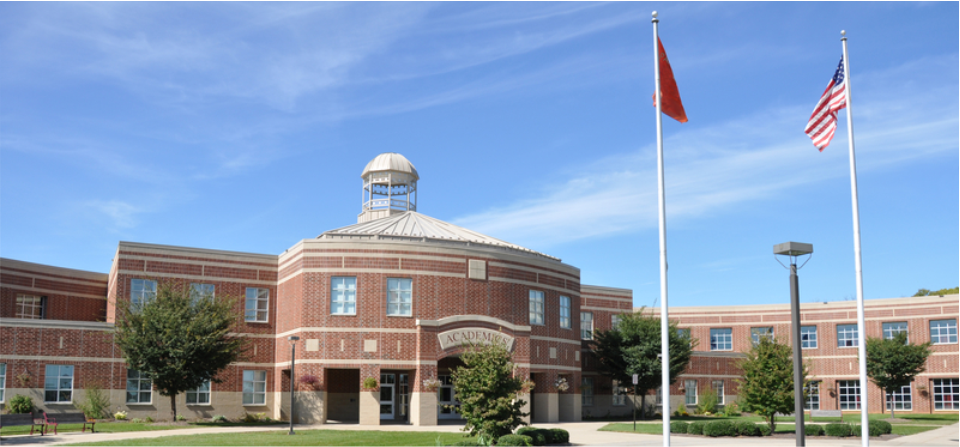 Prepare Classrooms…
for Emergencies, Field Trips, or Anytime Your Class is "On The Go"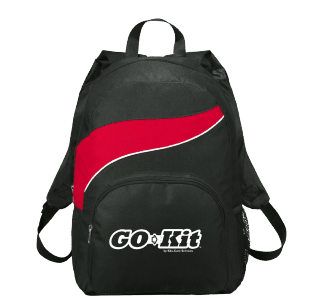 Go-Kits Help Prepare For:
Emergency Lockdowns
School Evacuations
Field Trips
Recess & Outdoor Activities
Unexpected COVID-19 Protocol Situations
Traumatic Bleeding Situations (Go-Kit+ Version)
Edu-Care Go-Kits are:
Proven – Used in schools across the country.
Versatile – Supplies for emergency & non-emergency situations.
Compliance – Supports emergency preparedness plans.
Affordable – Can be purchased for each classroom.
Customizable – Contents and quantities can be modified to meet specific school needs and budgets.
More complete than first aid kits.
More transportable than "bucket kits".
The Go-Kit Concept
The "Go-Kit" Concept is recommended by school safety advocates to support the classroom preparedness phase of an emergency management plan. Also known as emergency kits or ready bags,
Maintaining a safe and secure educational environment is a priority of school boards, administrators, teachers, support staff and parents. In many cases a teacher is the immediate person responsible for student safety and is typically the first person to assist students in any major or minor incident.
Providing teachers with critical emergency supplies that are readily accessible is a vital part of being prepared. Edu-Care Services, Inc. has designed a "Go-Kit" to be used specifically by teachers.
Two Versions – Standard & Bleed Control

Our Standard Go-Kit is a collection of readily accessible supplies to support teachers in both emergency and non-emergency situations including lockdowns, evacuations, fire drills, recess, field trips, etc.

Our Go-Kit+ Bleed Control Version includes all the contents of the Standard Go-Kit with the addition of a 22 piece Trauma Kit with tourniquet to address traumatic bleeding emergencies.
Why a Go-Kit with Bleed Control?
It is essential to quickly stop blood loss when waiting for emergency responders or on route to the hospital in an emergency bleeding situation. Our standard Go-Kit includes a first aid kit for scrapes and scratches but is not intended to address life-threatening bleeding situations.
Our Go-Kit+, in addition to the first aid kit in the standard Go-Kit, includes a 22 piece Trauma Pack with Tourniquet for stopping excessive blood flow to enable teachers and bystanders to perform life-saving bleed control actions for unexpected traumatic injuries and emergencies.
The Trauma Pack is also available to affordably enhance previously purchased standard Go-Kits. Read on to learn more or [Shop Now].
Go-Kit Contents & Details
Standard and Bleed Control Versions Contain: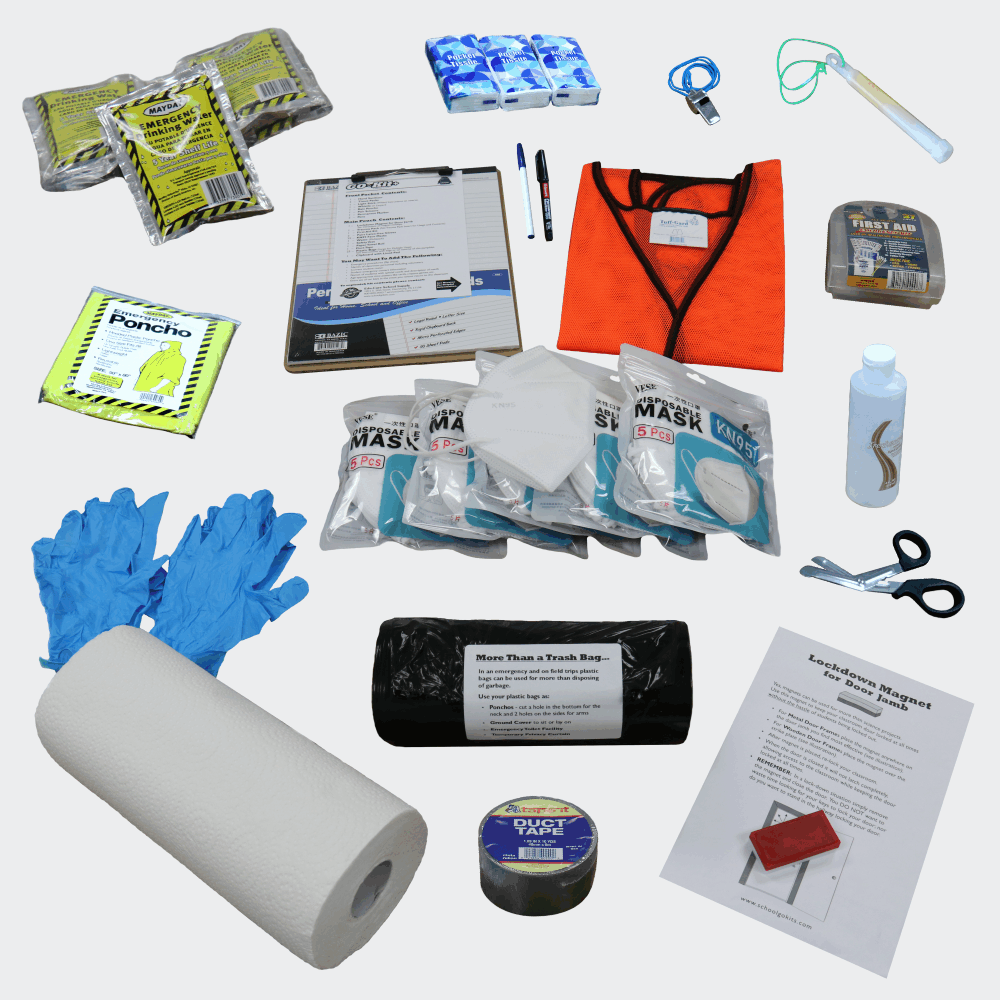 Both Versions Contain:
Lockdown Magnet for Door Jamb (Available Separately)
Heavy Duty, Block Style – Won't Wear Out.
Keep door locked at all times without students being locked out.
First Aid Kit (42 piece scrape and scratch kit)
KN95 Masks (25)
Hand Sanitizer (4 oz. – approx. 40 3ml uses)
Latex-Free Gloves (2 pairs)
Water Multipack (3+ year shelf life)
Paper Towel Roll
Adult Safety Vest (for teacher)
Whistle (on lanyard)
Light Stick (white, 10-hour)
Adult Rain Poncho (for teacher)
Large Plastic Bags (25, heavy duty, 30″x33″) Multiple uses: e.g. ponchos for students, ground cover, privacy curtains.
Tissue Packs
Clipboard with 8.5″ x 11″ Lined Tablet
Ballpoint Pen
Permanent marker
Utility Scissors
Duct Tape
Backpack (see details below)
Contents and/or Quantities Can Be Customized.
Contact Us to inquire.
Bleed Control Version Includes a Trauma Pack With: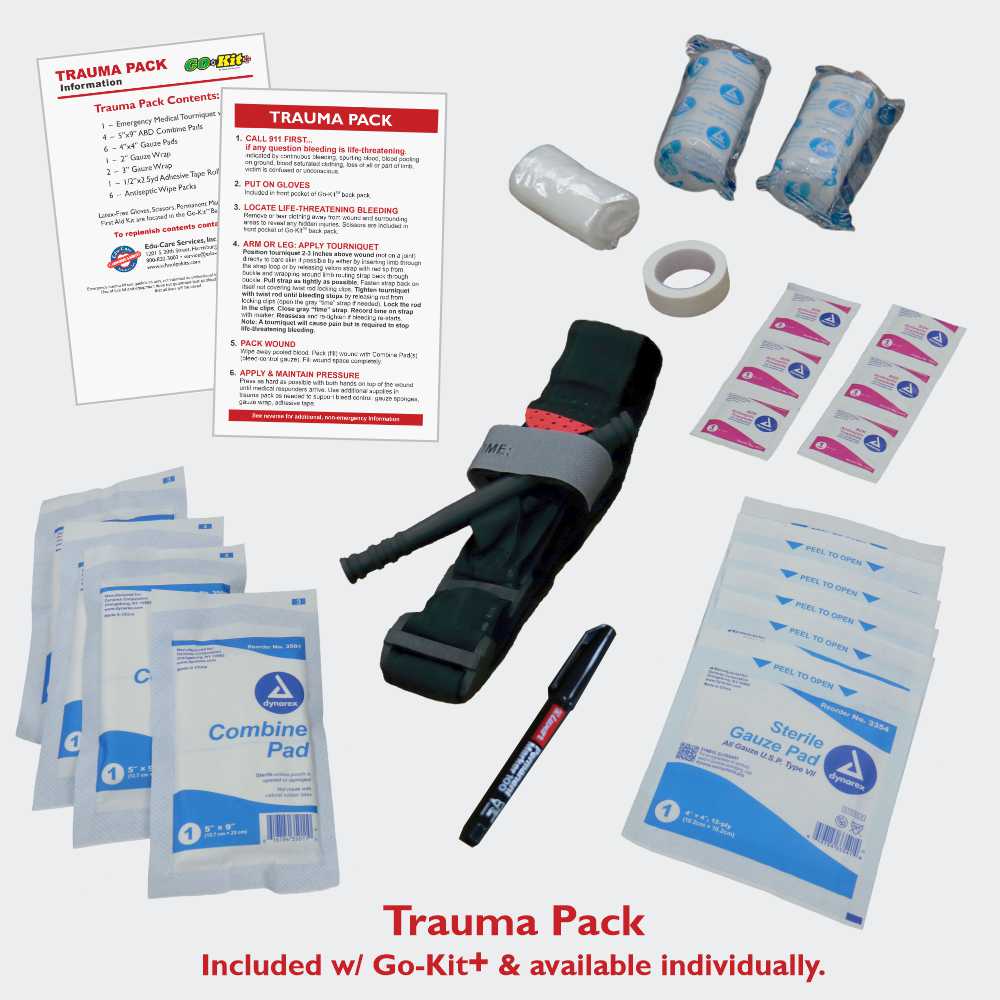 Go-Kit+ Bleed Control Version includes:
22 Piece Trauma Pack w/ Tourniquet:
1 Emergency Medical Tourniquet with Windlass, Permanent Marker (for recording time on tourniquet), 4 ABD Trauma Pads, 6 Gauze Pads, 1 Roll Adhesive Tape, 1 Roll 2"Gauze Wrap, 2 Rolls 3" Gauze Wrap, 6 Antiseptic Wipes. Packaged in resealable plastic bag.
(Note: Latex-Free Sterile Gloves and Sheers are included as part of the standard kit.)
Already have a standard Go-Kit?
The Trauma Kit can be
affordably purchased as an add-on.
Sturdy Backpack for Comfort & Convenience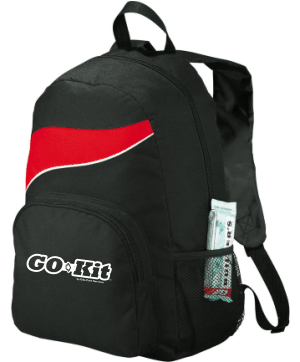 Backpack Features:
Comfortable and Convenient – Adjustable Back Straps and Carry Handle.
Spacious – 17" High x 12" Wide x 8" Deep. Ample room to add additional support items.
Lightweight – Total kit weight approximately 7 lbs.
Strong – 600D PolyCanvas.
Main and Front Zippered Pockets hold included contents.
Extra Mesh Side Pocket.
Free custom imprint available on orders of 50+ kits.
Customizable:
Contents and Quantities – Change quantities and/or add and remove contents to meet specific school needs.
Custom Imprints available on orders of 50+ kits. Add your school or organization's logo to the backpack at no additional cost.
Contact Us for additional information.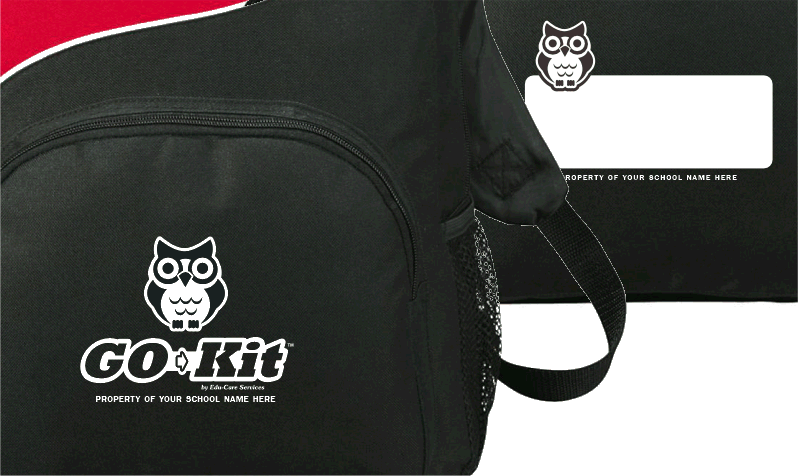 Features & Highlights
Protect and Prepare Students with:
First Aid Kit for scrapes and scratches.
Hand Sanitizer and KN95 Face Masks (for dust, smoke, or unexpected COVID-19 situations.)
Emergency Water for washing wounds/taking medicine.
12-hour Light Stick for emergency light source.
Go-Kit+ Bleed Control Version includes 22 Piece Trauma Pack w/ Tourniquet.
Protect & Prepare Teachers with:
Fluorescent Safety/Identitification Vest
Whistle for getting student attention or sound location beacon.
Adult Rain Poncho
KN95 Face Mask
Latex-Free Gloves
Convenient & Easily Transportable:
Approximately seven pounds, our sturdy, comfortable backpack with adjustable back straps, carry handle and extra front pocket is more convenient and versatile than bucket kits.
Spacious:
Room to Add Support Items. Have emergency information at the ready by adding the school's emergency plan, student roster with special needs and emergency contact information, and a spare set of car keys if unable to return to the classroom. Additionally, include time passers for students like cards, crayons, games, etc.
Versatile:
Supplies for emergency & non-emergency situations – in and outside of the classroom. Contents can be used in creative ways to address many needs. For example use Plastic Bags and Duct Tape for:
Emergency Toilet Facilities
Temporary Privacy Curtains
Rain Ponchos
Ground Cover
Covers for Air Vents / Windows
COVID-19 Enhancements:
Go-Kits include 25 KN95 face masks & a 4 oz. bottle of hand sanitizer (approx. 40 3 ml uses) to help address protocols teachers and classes may encounter during lock down, evacuations, field trips, recess and fire drills. Quantities can be customized – please contact us for a quote.
Already have Go-Kits? We can package the standard amount or custom quantities for you to affordably add them to your existing kits.
What Customers Are Saying…
Supports the goals of our emergency preparedness training. (PA)
We require the kits accompany teachers anytime the class is out of the building. (VA)
Our goal is to have one in every classroom. (TX)
The kits exceeded our expectations. (MO)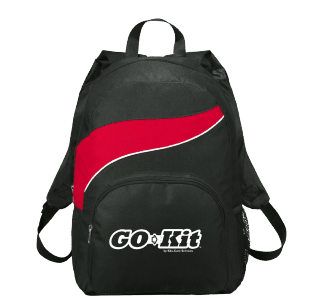 Printer Friendly Information Sheet (PDF)
Contact Us for Questions or Volume Quotes…