New STEM Kits for children 8+ to BUILD and PLAY with!
Kids get the satisfaction of building their own toys and learning tech concepts like component assembly, coding, sensors, vacuums, and more!
Stop in and check out these six new kits ranging $15 -$30…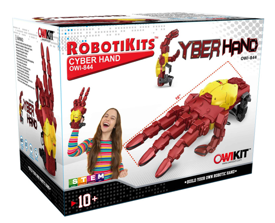 CYBER HAND
Assemble a mechanical right-handed STEM tool measuring 16" in length (twice the length of the average adult hand), Four spring-loaded flexor control abductors and an adjustable palm plate allow you to flex Cyber Hand's joints. No motors, water, or batteries required. 125 pieces. Recommended age 10+.
4/9/23 Update from OWI: "We are thrilled to share the exciting news that the Cyber Hand Robotics Kit by OWI Inc. has won a 2023 Family Choice Award! The Family Choice Awards recognize the finest products and services that enrich the lifestyles of children and families, and we are honored to have our innovative product among the winners." FCA Press Release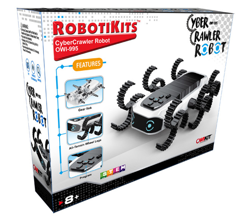 CYBER CRAWLER
This coding robotics kit entertains and teaches programming skills to inquisitive ages 8 and up. The CyberCrawler Robot's 76 pieces are an ideal level of difficulty taking the user's assembly skills beyond rudimentary snap together type kits.
A simple, press-button programming keypad embedded on its cranium provides immediate feedback as CyberCrawler Robot's LEDs illuminate and the robot executes programmed actions. No personal computer or device required; the technology required is on-board.
Simple and more advanced coding: begin with basic coding (forward, backward, left turn, and right turn) with each command powering the robot for timed intervals. Then take it to the next level by designing obstacles or maze courses. Requires 4 AAA batteries (not included). Recommended age 8+.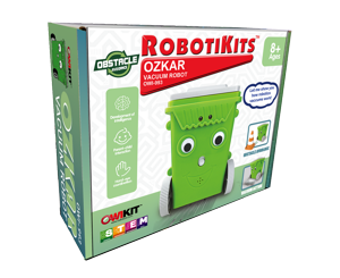 OZKAR the Vacuum Robot
This mini trash can cleaner robot kit uses AI (artificial intelligence) and I/R (infrared sensor) to seamlessly scan and clean it's surroundings. Once your budding engineer constructs this 40-piece STEM kit, they will get insight into how OZKAR's commercial cousins work. Requires 4 AA batteries (not included). Recommended age 8+.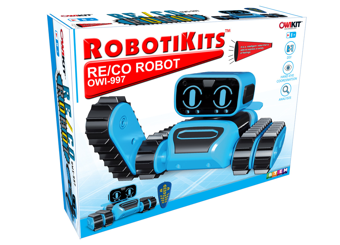 RE/CO Robot
RE/CO (short for remote control) is an adventurous off-roading robot. RE/CO comes equipped with an infrared sensor and artificial intelligence and has the ability to be controlled wirelessly, plus its tank-like tracks are perfect for rugged conditions. Children can enjoy guiding RE/CO over all sorts of terrain or follow the robot using its infrared sensor to find a clear path, in patrol mode.
RE/CO Robot is a great all-in-one package combining DIY assembling with not just one but multiple STEM aspects including wireless remote control, learning about infrared sensors, and simple programming with easy directional commands. 106 pieces. Requires 4 AAA batteries (not included). Recommended for 8+.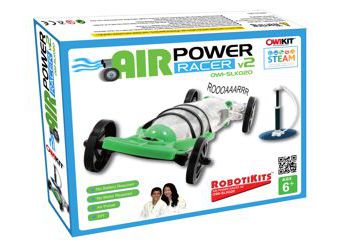 AIR POWER RACER V2
This 15-piece kit, like the original, runs on compressed air, but one fundamental change is the removal of the onboard air pumping device. Without this bulky equipment, the weight of the vehicle was reduced by more than 66% which means more speed! With the lighter frame and aerodynamics inspired by rocket cars, the Air Power Racer V2 can achieve speeds up to 42% faster than the original all while using the same free fuel… Air! No batteries required. Recommended for ages 6+.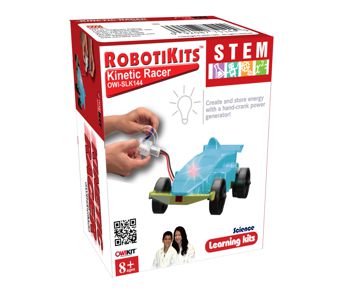 KINETIC RACER
This 14-piece kit is perfect to teach children ages 8+ how kinetic energy can be created with a hand crank generator, stored with a capacitor, and discharged into electrical energy to make a car go all without the use of batteries. Making for a fun science and learning kit. The instruction manual includes fun activities to extend the play value of the Kinetic Racer. No batteries required. Recommended for ages 8+.
Stop in and check 'em out!