Featuring Two Summer Practice Workbook Series from Evan-Moor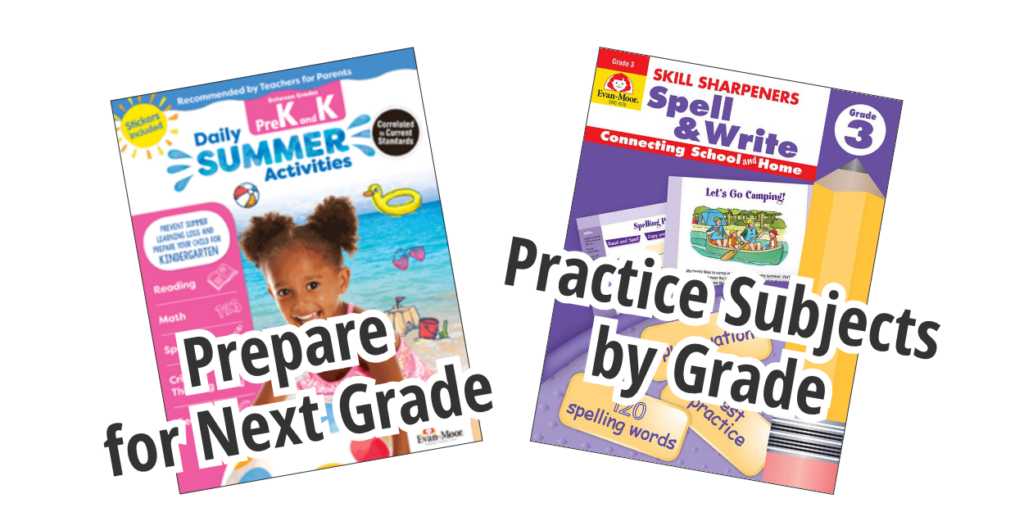 These teacher-developed practice activities help prepare and keep students sharp over the summer months.
Daily Summer Activities Series –
Prepare for Next Grade
Help bridge the grade just completed and the one about to begin. Each book contains 10 weeks of daily lessons to review and practice previously-learned materials and preview new concepts to be introduced in Reading, Math, Spelling, Critical Thinking and Geography. 144 full-color pages. PreK-to-K thru 7-to-8. $13.99 ea.
Skill Sharpeners Series –
Practice Particular Subjects
Grade-specific practice workbooks designed to keep skills sharp in the following subjects: Reading, Math, Spell & Write, Grammar & Punctuation, Critical Thinking, Geography, STEAM and Science. Skill Sharpeners workbooks now includes a free downloadable Teaching Guide! 144 full-color pages. Grades PreK – 6. $10.99 ea.
Stop in and Check Them Out…
Page through and see how they can help sharpen your child's skills for academic success with fun and challenging activities. We also have a great selection of other supplemental workbooks and materials including flash cards, learning games, and more.