As always we had a great time with everyone who came out. Looking forward to doing it again next year!
And remember if you are looking for STEM gifts for your older (upper elementary and up) budding scientist, engineer or technologist, be sure to check out our new MakeBox Kits from local makerspace Katapult from Dillsburg.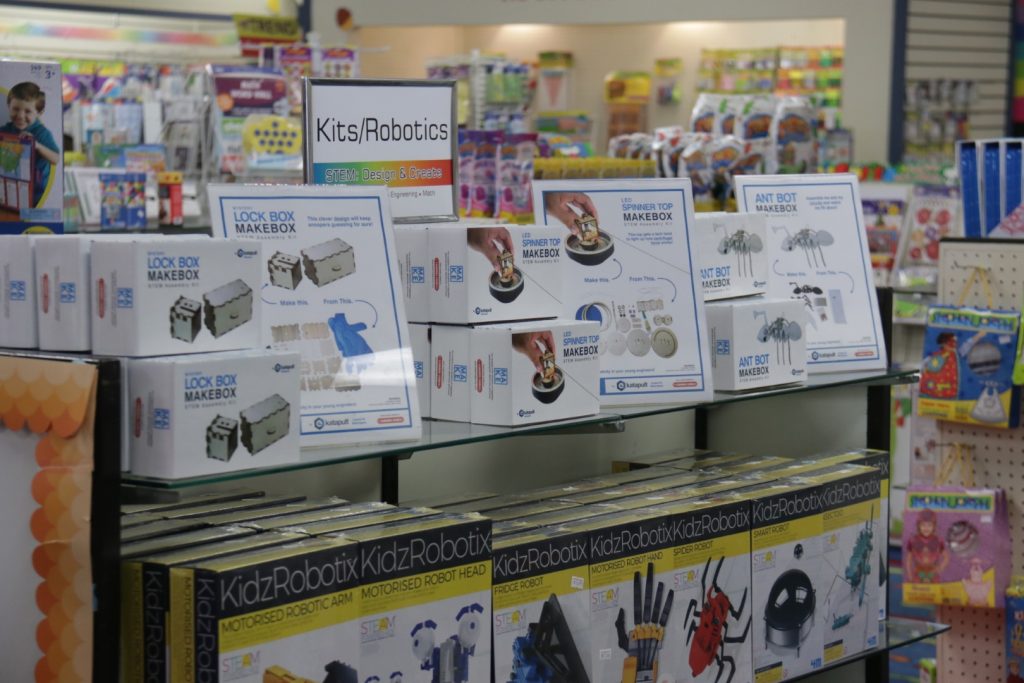 These fun projects introduce and expose students to STEM topics in the disciplines of magnetics, electrodynamics, electronics, and more!

They include everything you need including excellent step-by-step instructions guiding you through the entire process. We are presently stocking AntBot, Mystery Lock Box, and the LED Spinner Top.
---
STEM Play Day 11/2/19 – 10AM – Noon
Fun & Engaging STEM Toys, Games, and Kits
Featuring Kits by Local Makerspace Katapult
$50 Gift Certificate Drawing
3rd Annual STEM Play Day is right around the corner!
Come join (10AM – Noon) us for a great hands-on time of fun and learning! We'll be ready with a bunch of great items open and out for your kids to enjoy. Frankly we've found in the past adults have fun too!
We're super excited to be featuring MakeBox kits by our friends in Dillsburg at Katapult Makerspace. Including Ant Bot!

Of course we'll have other key brands like Geomag, KidsLab, Magicube, Science Wiz, SmartGames, SmartMax, and more!
Gift Certificate Drawing!
In anticipation of National STEM Day coming up we're having a drawing for a $50 Gift Certificate! We'll be taking entries all weekend!
Saturday Nov 2nd, 2019 – 10AM to Noon
Keep in mind Layaway is available to reserve items for upcoming Holiday Sale Events!